Other, Sites and Attractions
Getaway In Rouyn-Noranda!
A trip to Rouyn-Noranda is all about making warm encounters and lasting memories. Whether you're on vacation or looking for a weekend getaway, there are many ways of enjoying the city and its surroundings. After all, it's just a stone's throw away from the great outdoors!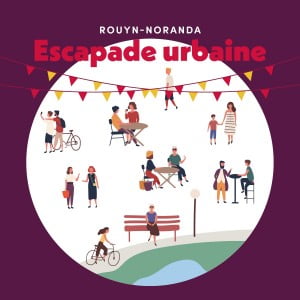 URBAN GETAWAY!
🌸 Wander the streets and let yourself be charmed by the beautiful storefronts of the lively city centre!
🌸 Cycle around Osisko Lake on the multipurpose trail located in the heart of the city!
🌸 With the application Baladodécouverte explore the public art and historical interpretation circuits and follow the route of citation panels throughout the city on foot or on wheels!
🌸 Take the time to sit on a terrace to quench your thirst, stop by the ice cream parlour to cool yourself down with a tasty treat or order takeout from one of our great restaurants to have a picnic!
🌸 And why not stay the night at a hotel?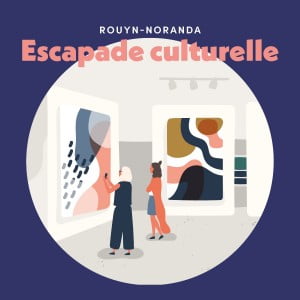 CULTURAL GETAWAY!
🎒 To the surprise of many, Rouyn-Noranda has a rich cultural and architectural history. While you discover the city's heritage tours, can you identify the various cultures that have left their mark?
🎒 Visit the Dumulon General Store to learn about the pioneers of Rouyn-Noranda.
🎒 Follow the Guide historique des quartiers ruraux and explore the city's rural neighborhoods.
🎒 Stop by the MA, our beautiful art museum that contributes to enhancing the vitality of the city's art scene.
🎒 Come and see the fine mural created as a tribute to Richard Desjardins. You will be blown away!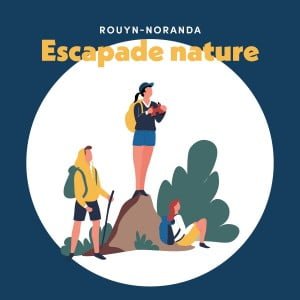 NATURE GETAWAY!
Vacationers, wildlife observers and outdoor enthusiasts alike can enjoy our backcountry's numerous hills and lakes, which bear witness to the great glaciers that have shaped the landscape.
🌼 Cross the impressive suspended footbridge at Parc national d'Aiguebelle and walk over landscape elements dating back billions of years!
🌼 Don't forget to visit Parc-Aventures Joannès and try out the aerial hebertism course. It's a must!
🌼 Admire the vast expanse of forest from atop the observation tower "Le nid de l'épervier" on the Kékéko Hills!
🌼 And why not make a reservation for a night of camping?
In need of some awe and wonder? Of some warm encounters? Or do you simply want to have a good time? Rouyn-Noranda is the answer, every time.
Out of inspiration? Contact us !
Add this experience
to my favorites
---